Upperco Volunteer Fire Company issued the following announcement on June 25.
The Upperco VFC is extremely proud to announce that we were awarded the Chief A. Marvin Gibbons Trophy at the 126th annual Maryland State Firemen's Convention Parade. This is the first time in history that this award was given to a Baltimore County company.
A little history on the award:
The award shall be presented to the company which, in the sole opinion of the parade judges, presents the best overall appearance considering such factors as: number of and composition of units, number of personnel in uniform, decorum, demeanor, and esprit de corps.
The Chief A. Marvin Gibbons Memorial Award consists of four major components: the pedestal, the felt field, the granite base, and the speaking trumpet. In addition, the award also includes a support for the trumpet and a dust cover. Each of the major components represents a specific aspect of the life of A. Marvin Gibbons.
The pedestal forms the foundation of the A. Marvin Gibbons Memorial Award. Just as Marvin Gibbons was in life, this pedestal is robust, solid, and distinguished looking. The pedestal. Made of solid mahogany, is octagonal in shape and measures forty inches high and approximately twenty-five inches across. The pedestal rests on a one inch base plate. In the top surface of the pedestal is a circular felt field. This felt field is red, Marvin's favorite color. The felt field measures approximately eighteen inches in diameter. Upon this surface rests the granite base.
The base of the Chief A. Marvin Gibbons Memorial Award is made from Elberton dark blue-gray granite. The stone measures twelve and five-eights inches long, eight inches wide, and two inches high, has a smooth bottom, polished top, and rough sides with rounded corners. This granite resembles the gravestone of Chief A. Marvin Gibbons.
The Speaking Trumpet is an exact duplicate of the antique speaking trumpet presented to Chief Gibbons by the Hillandale Volunteer Fire Department upon his election to President of the MSFA. The Speaking Trumpet was cast in bronze from a mold made from the original trumpet. The bronze trumpet was then polished and chrome plated. Chief Gibbons instituted the use of chrome to accent equipment and apparatus in order to build pride within the Department. The red, white and blue braid and tassels are a ceremonial halyard representing the patriotism of Chief Gibbons.
Upperco VFC also earned the following awards:
Judges Award - 1909 Chemical Wagon
2nd Best Appearing - Fire Prevention Float (Juniors)
Honorable Mention Over 25 Years Old out of service - B-436
Honorable Mention Special Services - ATV-85
2nd Place Special Services - U-859
Honorable Mention - M-855
2nd Place Brush Unit - B-855
3rd Place, 1500 GPM + - E-852
Original source can be found here.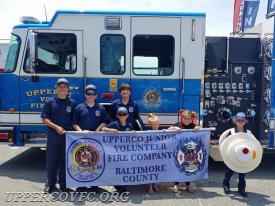 Source: Upperco Volunteer Fire Company